Exploring Shores Of Lake Tahoe

Brought to You by the Mighty Molossian Navy
---

On Sunday, 23 July 2017 XL the Molossian Navy deployed to nearby Lake Tahoe, a favored spot for the Navy's many voyages of discovery. The target this time was at the south end of the lake, a sandy spit of land known as Tallac Point, where Taylor Creek enters Lake Tahoe. The mouth of the creek is a maze of wetlands, perfect for exploration. Arriving at about 1:00 PM MST, the Navy deployed immediately into the marsh, our vessels weaving their way through the many channels where the creek spreads out before it meets Lake Tahoe. For an hour or so the Navy surveyed the wetlands, taking note of the wildlife there, as well as deploying the Seahorse 2 submarine to peer beneath the surface. Returning to the beach area for rest and recuperation, the Navy next set out onto Lake Tahoe itself with a different mission, to find the legendary underwater railroad tracks of Tahoe. These tracks run from the southern shore of Lake Tahoe out into the depths and were once used to transport the yachts of the wealthy from boathouses into the water. The rich denizens of the Tahoe shore are gone and the boathouses are now wedding venues, but the tracks remain still, running from the shore into the watery depths. Our naval fleet finally discovered the elusive tracks after a long voyage from Tallac Point, and was able to survey them briefly. Use of the Seahorse 2 for a better views beneath the surface was hampered by a power failure, but having found the tracks, the Navy will return for a better look - a future mission is already planned. The survey complete, the fleet returned to Tallac Point and thence to Molossia, another successful mission for the Mighty Molossian Navy!



Hooray for the Molossian Navy!


---

Tallac Creek Marsh


In The Marsh


The First Lady Afloat


Exploring The Marsh


Deep Waters


Sunken Tracks


Tracks Underwater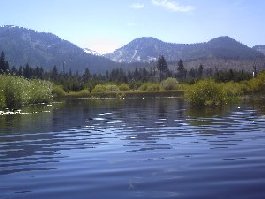 See beneath the waters of Tallac Point here!
---
Return to the Molossian Navy Page.