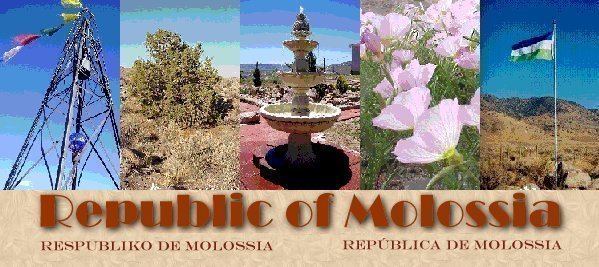 NATIONAL DATABASE
---
A. General Data
1. Popular Name: Molossia
2. Three Letter Identifier: MOL
3. Official Name: Republic of Molossia
4. Capitol City: Espera, Harmony Province
5. Original Name: Grand Republic of Vuldstein
6. Name in Esperanto: Respubliko de Molossia
7. Nationality of Citizens: Molossian
8. Official Calendar: Gregorian
9. Official Language: English & Esperanto
10. National Day(s): May 26th, 1977 I; Founder's Day
11. Motto: Nothing Ventured, Nothing Gained
12. National Anthem: Molossia, Nation in the Desert
13. Origin of Name: "Molossia" is a corruption of the Spanish word "morro", which means small rock or small hill, the suffix "ssia" being a standard place suffix. The name derives from the Spanish heritage of the Southwestern United States, and may refer to Helicopter Rock in the Back Forty or less specifically to the hills that are just outside the boundary of modern Molossia. The name "morro" may have been given to the area by the famous Loco-Cabeza Expedition which quite possibly passed through Molossia in the late 18th century, on their way to someplace else.
14. Measurement System: Kokintz System
B. Social Data
1. Population: 21 humans, 5 dogs, ; total 26
2. Demographics:
a. Ages 0 to 15: 19%
b. Ages 16 to 64: 70%
c. Age 65 and above: 11%
d. Gender:
(1) Female: 33%
(2) Male: 40%
(3) Dogs: 27%
e. Ethnic Diversity: Southern / Central European
3. Religions: No state recognized religion, religious affiliation is an individual choice, and is protected by law. Religious interference in politics is prohibited, though.
4. Obligatory Military Service: Yes.
5. Death Penalty Exists: Yes, well, no, not really. With so few citizens, who would we shoot?
6. Censorship of the Press: No. The Government writes the newspaper, so there's no need for censorship.
7. Homosexual Rights: No one has rights over anyone else; gay rights are not "special" rights. Every citizen has the SAME rights re: marriage (Partnering), inheritance, jobs, justice & redress of wrongs, education, spiritual sustenence, etc. as any other.
8. Direct Elections: To Be Determined
9. Taxation: No.
10. Free Speech Laws: Yes, unless you annoy the President. Then you must shut your pie-hole.
11. Main Newspaper(s): The Khamsin
12. Illiterates (above the age of 15): None, unless you count the dogs.
C. Economic Data
1. Currency: Valora
2. Value in US Dollars: 1 Valora = $ .75
D. Geographical Data
1. Continent: North America
2. Location: Western USA, State of Nevada, Storey County and Southern California, San Bernardino County
3. Limits: N/A
4. Major Cities: Espera, so to speak.
5. Total Area: 9956 Square Royal Nortons (2.5 ha / 6.3 acres)
6. Local Time (Relative to GMT): -8 hours, plus 39 minutes, Molossian Standard Time
7. Climate: Arid, high desert. Limited precipitation. Very limited.
E. Political Data
1. Political System: Republic
2. Date of Next Elections: To be Determined (but don't hold your breath)
3. Head of State: President Kevin Baugh (1962-)
4. Head of Government: President Kevin Baugh (1962-)
5. Major Parties: N/A
6. Parliamentary System: Yes. Theorectically.
7. Provinces, States, Districts: Harmony Province and Desert Homestead Province
8. Political Allies: N/A
9. Membership in International Organizations: N/A
10. Diplomatic Relations: N/A
F. Cultural Data
1. National Animal: Mustang (Wild Horse)
(Equus caballus)
2. National Bird: Valley Quail
(Lophortyx californica)
3. National Tree: Common Juniper
(Juniperis communis)
4. National Flower: Common Sagebrush
(Artemisia tridentata)
5. National Sport: Molossian Broomball
6. National Musical Instrument: The Molossaphone
---
Return to the Republic of Molossia Main Page.