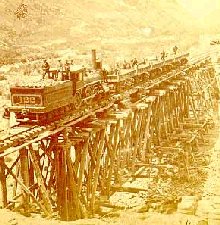 Information and History
---
The Molossia Railroad was incorporated on 13 March 2000 XXIII under the laws of the Republic of Molossia. The railroad was chartered to run through the province of Harmony, serving the commercial and passenger needs of that province from the Molossian capital of Espera to the German-speaking Molossian town of Steinsdorf. Construction began on 20 March 2000 XXIII at Espera, with survey and road work being completed for the first phase of the project in the space of one week. On 25 March 2000 XXIII the first track was laid, with 902 scale Nortons (275 scale meters) of track being completed by 26 March 2000 XXIII. This completed phase one of the project. An additional spur of 567 scale Nortons (173 scale meters) was projected.

In late May 2003 XXVI, the Molossia Railroad was rerouted over a completely new route. This new route now includes 3312 scale Nortons (589 scale meters) of track in one large loop and serves both the towns of Steinsdorf and the mining town of Silver Hill.

Motive power for the Molossia Railroad is detailed on the "Locomotives" page. A Baldwin 2-4-2 Columbia was delivered on 22 March 2000 XXIII, and provided the initial transportation for the road. An additional Porter 0-4-0 side tank engine was delivered the same day, for use in the railroad's yards and eventually on a projected spur. Later engines include two Baldwin 10-Wheelers, a 2-6-0 "mining" Mogul and a Porter 0-4-0 saddle tank engine.

Track is entirely Aristo-Craft brass rail, laid on a bed of crushed oyster shells (aka chicken grit). Power is an Aristo-Craft Ultima 10 Amp Power Supply, and control is by an Aristo-Craft "Train Engineer" remote control.
---
Home | Map | Locomotives | Rolling Stock | Photos | Links