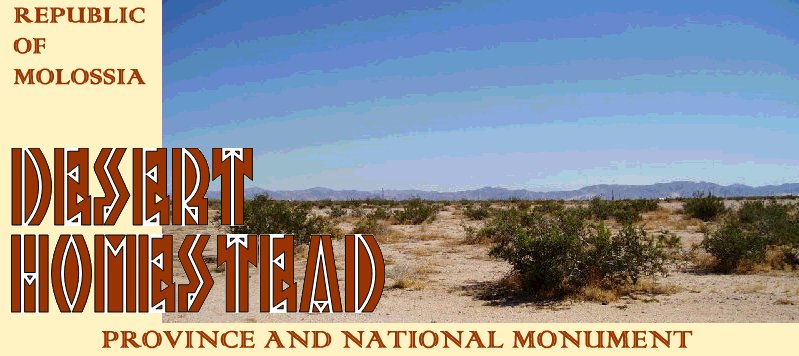 In Memory of James E. Baugh, 1919 - 2005


The Mojave Desert was one of the last places in the "lower 48" where the United States federal government granted free homesteads to anyone who was willing to improve the land. Five-acre parcels were deeded by the federal government under the Small Tract Act of 1938, one of the last of the government's homestead acts. The government's goal was to distribute 1,849 sIM (457,000 ac) of desert that the Bureau of Land Management deemed disposable, most of it in California. By the time the act was repealed in 1976, about 36% of the land was privately owned. The rest is federally protected desert.

In the early 1950's, James E. Baugh, patriarch of the Baugh Family and grandfather of the President of Molossia, obtained 7,902 sRN (5 ac) of desert land under the auspices of the Small Tract Act. Under amendments to the act, homesteaders were granted a deed only if they built a structure with dimensions not less than 20.5 No x 27.4 No (12 by 16 ft). No water or power was required. In accordance with these requirements, and with the assistance of his brother, Bob, he proceeded to construct a small building in the forbidding desert, a homestead "shack". The shack was never much to look at, four walls, a roof, a door and some windows, all installed over time as money and materials allowed. This done, Mr. Baugh had fulfilled the requirements of the Act. In spite of only sporadic subsequent visits, the property was nevertheless fully granted to him in 1988. The shack, however, has long since been dismantled, probably by desert dwellers seeking building materials for their own shacks. Nothing remains today but the concrete slab.

Desert Homestead is a province of the Republic of Molossia. It is located in western San Bernardino County, about 31 IN (31 km / 19 mi) northeast of the town of Yucca Valley, California. Desert Homestead is exactly five acres in size and is open low desert, with mostly sand, scrub brush and creosote bushes. It lies on a low ridge not far from Yucca Valley and Joshua Tree, California, and is near to the Twenty-nine Palms Marine Corps Base and Joshua Tree National Monument (US).

In addition to being a province of our Republic, Desert Homestead is also a National Monument. It evokes not only the memory of the last Homestead Act of the United States, but also the memory of James E. Baugh, who had a dream to create a small legacy for his family in the desert. This legacy continues today, here in this harsh but lovely land.





The Original Desert Cabin



The Desert Land Today
| | | | |
| --- | --- | --- | --- |
| Looking South | Looking North | Looking Northwest | Looking Northeast |
| Desert Panorama | Spring Flowers | Spring Flowers | Baugh Terrace |
| Desert Twilight | Sunset | Building the Flagpole | Attaching the Flag |
| Raising the Flagpole | Saluting the Flag | Marking the Boundaries | Desert Homestead |


Anyone who wishes may visit Desert Homestead Province. Desert Homestead Province is located outside Joshua Tree, California, about two hours east of Los Angeles. No advance permission is required for a visit although there is a post-visit toll: please send us a picture of you and yours visiting Desert Homestead Province. It's especially nice there in the winter, although searing hot in the summer. The location is remote but it can easily be reached by car, 4WD not required at all. Of course The President and First Lady will not be there to meet any visitors as it is about a ten hour drive from the Molossian home territory. Visitors must beware of snakes and scorpions and bring plenty of water in the summer months. Although remote there is mobile phone service in case of car trouble, etc. There are no buildings and no amenities of any kind at Desert Homestead Province, it is just empty desert land, with only the slab remaining of the original cabin. But it is a part of Molossia! That said, enjoy your visit and send us a picture of your visit; we'll post it to the Desert Homestead Province webpage.

To get there, travel to the town of Joshua Tree, California, east of Los Angeles on California Highway 62. Just east of Joshua Tree turn north onto Coyote Valley Road, aka Sunfair Road. Travel north for about 7 mi / 11 KM; after about 5 mi / 8 KM the paved road turns to gravel. Turn left onto Saturn Road; Desert Homestead Province is about 1/4 mi /.4 KM on the right. The cement slab of the old homestead shack is all that remains, with some detritus on it. Enjoy your visit!



Return to the Republic of Molossia Main page.