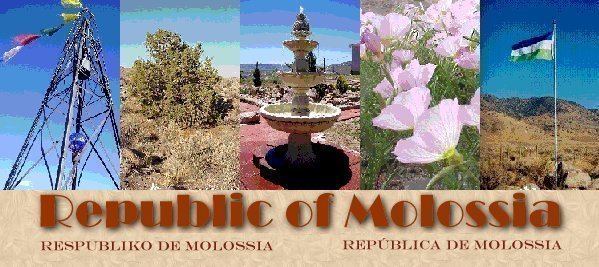 A Virtual Tour of Molossia
---

The heart of the Republic of Molossia is the Province of Harmony, home to the Molossian government, and sovereign territory of the Molossian Republic. Harmony Province is 2054 sRN (.5 ha / 1.3 ac) in area, 32 IM (32 km / 19 mi) east of Carson City, Nevada, and lies at an elevation of 7714 Nortons (1500 m / 4500 ft) above sea level, in the high desert Great Basin. With a dry, mild climate, Harmony Province is home to sagebrush, jackrabbits, wild horses and the ever-present desert winds. More information on the Great Basin, in which Molossia lies, go here.

---
Click on the image map and the pictures to tour the many faces of Molossia.


---
Return to the Republic of Molossia Main Page.