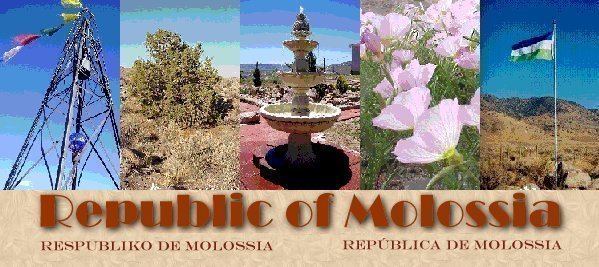 VISITING MOLOSSIA

---

Molossia is a real place and we welcome visitors. It is important to note a few points about visiting our nation:

Visitors to Molossia must not come unannounced. This is our home as well as our nation and we may be unavailable to receive you. Visitors cannot tour the nation unescorted, again because it is also our home. We require at least two weeks notice before any visit. Tourist Season is from 15 April through 15 October, weather permitting. Please contact us at Government of the Republic of Molossia, 226 Mary Lane, Dayton, NV 89403, or via e-mail at mininfo@molossia.org, for permission to visit, and to arrange a date and time. We will give you directions to Molossia, as well.

Passports not required for entry into Molossia from the United States. Passports are, however, recommended and will be stamped upon entry. There are no visa requirements for entry into Molossia. Please note, for visitors wishing to visit Molossia from outside the United States, there may be visa requirements to enter the United States. The Molossian Government cannot assist in obtaining visas to enter the United States.

Our nation is very small and very remote. We are over forty-eight Imperial Nortons ( 48 km / 30 mi) from the nearest airport and eleven Imperial Nortons (11 km / 7 mi) from the nearest hotel accommodations and restaurants. Visitors will be responsible for their own transportation and accommodations; our government can make recommendations but has no travel office to help with arrangements.

The size of our nation prohibits all but a short visit. While there are things to see and do in Molossia, our nation is not a major tourist attraction. Plan to spend only about an hour touring. There is plenty to do in the surrounding area to occupy you after your visit and make your trip worthwhile.

We look forward to your visit to our nation. Welcome to Molossia!


---
SOME VISITORS TO OUR COUNTRY
---
Return to the Republic of Molossia Main Page.